Jumbo Economy 4.5kg (free shipping)
As a guide, there are 90 half-cup servings in this pack. (Generally speaking, that's 180 meals for a small dog and 90 meals for a medium dog.)
That's our Dolly on the package cover. She's been eating Happy Dog Breakfast as part of her natural food diet for 8 years (she's 10 y/o now), and her everyday life-joy is still boundless.
This pure wonder food is designed with love by humans, totally deserved by dogs. Vitalised, full of nutritional value and abundant in natural fibre, it helps friendly gut flora to increase, digestion to become more efficient, and poos to become less smelly. Which is a good thing all round!
Preparation is as easy as one two three. Directions are on the package, but basically you mix the dry food with water, leave it overnight if possible or for minutes if need be, and serve. Yum! 
The powerful 100% human-grade ingredients are:
barley flakes
rolled oats
chia seeds
shredded coconut
bone broth
carrot
parsley flakes
glucosamine sulphate
shark cartilage
minerals (zinc oxide, calcium phosphate)

Why not add some tasty treats to your order? Try the fabulous chicken breast or perhaps roo, lamb & beef. They're all so good!
And don't forget to tell your dog bon appetit from their biggest fans! 🐕❤️
Customer Reviews
11/15/2020
Tracy T.
Australia
I recommend this product
Happy dogs happy Kelpies
My two rescue Kelpies LOVE their healthy breakkie. It keeps them fuller and gives them enough energy to run around our 2 acres during the day. They then eat raw at night and digest it better. Our boy salvitates waiting for his morning oats haha it makes us happy knowing all the great, healthy ingredients are in their breakkies too
11/08/2020
Sandi P.
Australia
I recommend this product
A dogs breakfast was never so good!
Roger our 10 year old dog has eating Hey Happy Dog "porridge" for several years now. He has a known hip problem. I am sure the breakfast has contributed to his health and well-being. Our new acquisition Lizzie also has porridge - she does a little dance of anticipation every morning.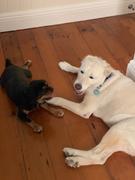 11/04/2020
Tracey F.
Australia
I recommend this product
Stanley
Purchasing Hey Happy Dog breakfast for our Labrador x Golden Retriever Stanley Couldn't be easier and Stanley loves his breakfast with yogurt on top.
10/27/2020
Samantha K.
Australia
I recommend this product
Fantastic product; lovely people motivated by dogs' health
My overall experience with Hey Happy Dog - face-to-face, on-line and using the product has been terrific. The creators of the product were motivated by love for their dog, and they did a tremendous amount of work to ensure it's the best possible food for a long, happy life for all dogs. I highly recommend others move away from the mass-produced, profit-driven products found in mainstream pet shops and start using happy dog for their pets.
10/20/2020
Jess L.
Australia
I recommend this product
Amazing dog food - Amazing service
My experience with Hey Happy Dog has been nothing but excellent. Not only had the food helped our older pup Bella to be able to actually climb the stairs again... but the service these guys provide is amazing. They make it clear that they truly care about our dogs.