Regular Pack 1.75kg
As a guide, there are 34 half cup-servings in this pack. (Generally speaking, that's 68 meals for a small dog and 34 meals for a medium dog.)
That's our Dolly on the package cover. She's been eating Happy Dog Breakfast as part of her natural food diet for 8 years (she's 10 y/o now), and her everyday life-joy is still boundless.
This pure wonder food is designed with love by humans, totally deserved by dogs. Vitalised, full of nutritional value and abundant in natural fibre, it helps friendly gut flora to increase, digestion to become more efficient, and poos to become less smelly. Which is a good thing all round!
Preparation is as easy as one two three. Directions are on the package, but basically you mix the dry food with water, leave it overnight if possible or for minutes if need be, and serve. Yum! 
The powerful 100% human-grade ingredients are:
barley flakes
rolled oats
chia seeds
shredded coconut
bone broth
carrot
parsley flakes
glucosamine sulphate
shark cartilage
minerals (zinc oxide, calcium phosphate)

Why not add some tasty treats to your order? Try the fabulous chicken breast or perhaps roo, lamb & beef. They're all so good!
And don't forget to tell your dog bon appetit from their biggest fans! 🐕❤️
Customer Reviews
09/25/2020
Marg G.
Australia
09/21/2020
Jane M.
Australia
I recommend this product
Best Breakfast ever
Jack loves his Happy Dog breakfast. He is now 15 years old and still runs up the stairs. The vet says he has the heart and lungs of a puppy. There is no sign of arthritis, (thanks to the glucosamine in his breakfast) and he trots along like a puppy. Nobody believes his age. Happy Dog breakfast has also kept his bowels working a lot better/ smoother than before. I highly recommend Happy Dog breakfast food, maybe add a bit of sardine or something else in the initial introduction. Jack also LOVES the chicken treats!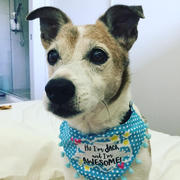 09/06/2020
Lyn G.
Australia
09/01/2020
Jane K.
Australia
I recommend this product
Just perfect!
we have been looking for natural, Australian made food for our furry boy and we finally found it.We look foward to our monthly deliver.Congratulations on running a great business
08/25/2020
Brian M.
Australia