Jumbo Economy 4.5kg (free shipping)
As a guide, there are 90 half-cup servings in this pack. (Generally speaking, that's 180 meals for a small dog and 90 meals for a medium dog.)
That's our Dolly on the package cover. She's been eating Happy Dog Breakfast as part of her natural food diet for 8 years (she's 10 y/o now), and her everyday life-joy is still boundless.
This pure wonder food is designed with love by humans, totally deserved by dogs. Vitalised, full of nutritional value and abundant in natural fibre, it helps friendly gut flora to increase, digestion to become more efficient, and poos to become less smelly. Which is a good thing all round!
Preparation is as easy as one two three. Directions are on the package, but basically you mix the dry food with water, leave it overnight if possible or for minutes if need be, and serve. Yum! 
The powerful 100% human-grade ingredients are:
barley flakes
rolled oats
chia seeds
shredded coconut
bone broth
carrot
parsley flakes
glucosamine sulphate
shark cartilage
minerals (zinc oxide, calcium phosphate)

Why not add some tasty treats to your order? Try the fabulous chicken breast or perhaps roo, lamb & beef. They're all so good!
And don't forget to tell your dog bon appetit from their biggest fans! 🐕❤️
Customer Reviews
09/24/2020
Justine W.
Australia
I recommend this product
a big paws up from Bella
our beautiful, big, brown and blind Bella is third hand, she was very overweight when we inherited her and her general health not that great, she's been with us for nearly 3 years and has lost weight and looks great, She loves her "porridge" as we like to call it for breakfast and when she wasn't able to have it for a week post surgery would rest her head on the jumbo bag of Hey, Happy dog by way of a subtle hint (not)!
09/20/2020
Deb B.
Australia
09/20/2020
Glenys G.
Australia
I recommend this product
Healthy and Happy
Our two little dogs just love their Hey Happy Dog breakfast and their coats and skin are so much more healthy since switching. We are 100% happy and recommend.
09/18/2020
Kathleen H.
Australia
I recommend this product
Hey happy dog
I have a Jack Russell terrier and she is a number one fan of this amazing food. She loves it and has it for breakfast every day. Easy to prepare and filling for her. Her coat is shiny her bowel movements are clean and without odour. I feel she is very happy and healthy. She loves the treats she receives as a happy dog customer. Service is great food delivered very promptly with a smile. Thanks happy dog, was a great day when we found you at our local markets xo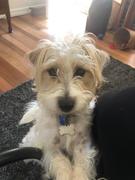 09/16/2020
Djeylan S.
Australia
I recommend this product
Happy Dog and Milly
From the moment I fed Happy Dog to my now 14 plus year old dog she has never looked back. I am able to keep her weight at a healthy level and coat is beautiful. Although quite arthritic, since being on Happy Dog she seems to be happier and with more energy. When Milly dies I will take comfort in the fact that I have given her the very best nutrition possible to give her the best quality of life. I could not recommend Happy Dog Breakfast any more than I have.